05/4/22
Top trends in food delivery that building owners need to know about
Written by Christopher Stanvick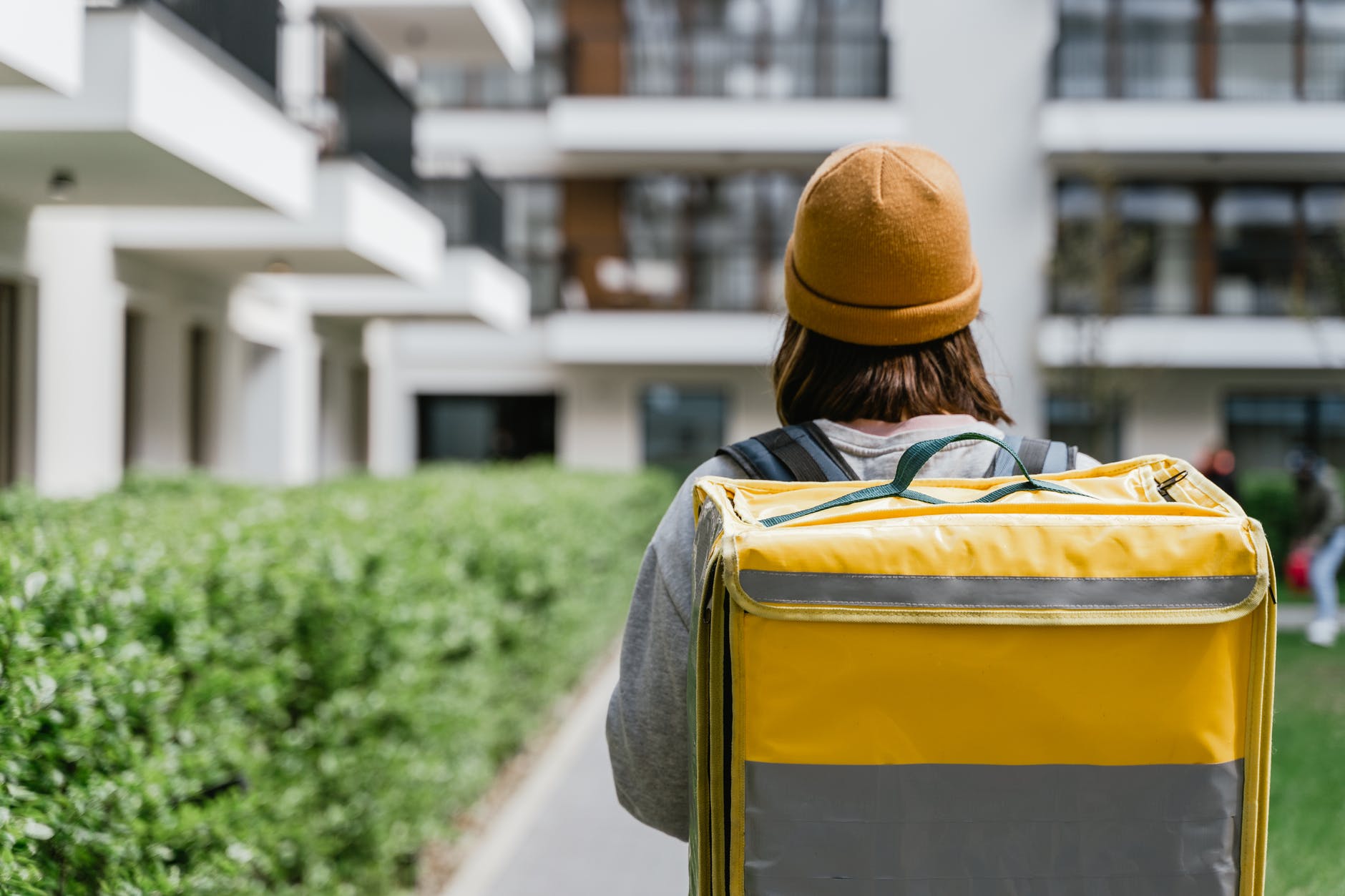 There's never been more pressure for commercial and multifamily building owners alike to provide tenants with easy, safe, and convenient options for contactless food delivery.
The post-COVID shift in how people live, work, and eat has driven changes in food delivery—from how people physically get their food to how restaurants prepare, serve, and deliver that same food to customers. As a result, tenants and residents are more focused on convenient access to their favorite (and newly discovered) food choices.
These food pickup & delivery trends are driving changes in the way customers eat, and building owners need to understand how tenants make decisions about food delivery and, in turn, how those decisions play a crucial role in where they choose to live and work.
By providing tenants with easy, contactless delivery options like a Minnow Pickup Pod, building owners can support both their own tenants' lifestyles and help bolster the recovery and growth of local foodservice operators—a big win-win for all parties.
Table of Contents
1. Contactless food delivery is now a must-have for tenants.
The popularity of (and need for) contactless food delivery has boomed in the past few years—and now that users have a taste for it it's not going away any time soon.
As a result, there's more demand than ever for building owners to provide simple, convenient, and reliable places for contactless food delivery.
Tenants are seeking out contactless food delivery (and may be willing to pay more for it)
With the COVID pandemic changing the way many people live, work, and eat on a day-to-day basis, minimizing contact with couriers and delivery personnel has become not so much a luxury as a necessity.
As a result, there's more pressure than ever to deliver more food, faster, and with less person-to-person contact. Tenants have raised the bar with their expectations around speed of delivery, and may even be willing to pay an added premium for convenience.
That's why so many building owners are seeking solutions like the Minnow Pickup Pod to provide a single, contactless delivery and pickup hub for food deliveries. Not only does this make it easier to get the food they want, but it also helps minimize unwanted contact with food delivery couriers.
Convenient food delivery & pickup is a crucial amenity for building residents
Another huge trend in the wake of the COVID pandemic is a massive surge in relocation—both among families changing their permanent residence, and among individuals making a temporary move to match their new reality.
Even as inflation rises and more consumers are getting locked out of the single-family housing market, the popularity of multifamily housing has only continued to climb. Demand for multifamily housing has risen significantly in 2021 and 2022 compared to pre-COVID periods—especially among millennials and younger generations just entering the workforce—and there's been more pressure than ever on building owners to provide attractive amenities that increase convenience for residents. .
Among this growing pool of renters, these amenities play a key role in the decision-making process when choosing a new place to live—a trend especially prevalent among high-end, luxury renters. For this audience, convenience amenities like contactless food delivery can be a huge determining factor.
A contactless food delivery Pickup Pod is a great way of providing this convenient, safety-focused, and easy-to-access amenity to residents, employees, and other building occupants.
2. Tenants and restaurants both benefit from convenient delivery—raising the appeal of nearby multifamily properties.
Food delivery has gone beyond a mere luxury and is now considered a full-on expectation from customers.
For restaurants, that means one more avenue for profit growth—and for tenants, more and better restaurants in the area nearby a multifamily property makes that building a much more attractive place to live.
As multifamily building owners compete for tenants with amenities and nearby attractions, steps like these can help offer positive benefits for all parties involved. That can lead to happier tenants, more successful restaurants in the area, and an overall advantage for building owners working to make their building stand out from the crowd.
Optimizing food delivery to protect food service profits
With so much demand for food delivery among consumers, many restaurants are choosing to take control of their delivery offering with native delivery using in-house resources versus third-party delivery operators.
But for restaurants struggling to keep up with the demand, the time and energy required to deliver food to customers may cause roadblocks to maintain profitability and make delivery worthwhile. The rising cost of gas for delivery vehicles represents a very real (and hard to predict) variable that can also eat into profits.
By implementing contactless food delivery into the process using a Minnow Pickup Pod, food service operators and building owners alike can optimize the food delivery routes by minimizing time spent searching for individual customers' front doors.
That makes food delivery simpler and easier for tenants, and more profitable for foodservice operators—raising the profile of the entire neighborhood in the process.
Making a mark amid the rise of ghost kitchens
The rise of ghost kitchens adds even more pressure to compete in the market, and restaurants are looking for solutions like contactless pickup solutions to help bridge the gap.
For building owners, the ability to provide ghost kitchens with an easy way to deliver food only helps to optimize and enhance the delivery & pickup experience.
Not only does this open up whole new food opportunities for residents and tenants, it also helps to support these local foodservice operators—a good sign for basically everyone living in the nearby area.
3. Smart food lockers & storage make delivery & pickup easier.
While more and more consumers might be looking for convenient food delivery options, the chaos of the messy building lobby or an overwhelming number of food orders at mealtime can make the process of actually getting food feel more difficult than it's worth.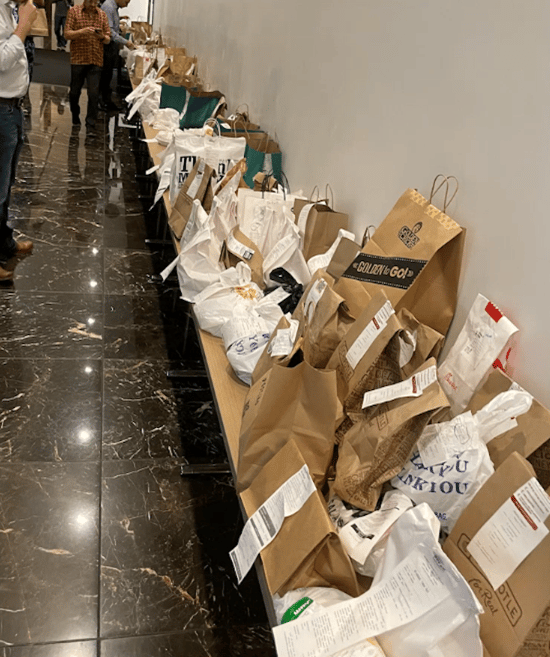 A contactless smart food locker and can help to seriously streamline the delivery experience for restaurants and guests alike, making the whole process overall more enjoyable and more productive.
Minimizing waste & maximizing convenience with contactless delivery
Unless steps are taken to minimize the environmental footprint of food delivery, this can be one of the most wasteful processes a restaurant (and their guests) encounter.
The large amount of packaging used to insulate food left out in the open for delivery adds plastic and unwanted materials to the order itself, while the amount of fuel used by idling delivery vehicles can make consumers feel like they're contributing to waste when ordering food. For a customer base more focused than ever on sustainability, this is a big issue.
New zero-waste food takeout containers may help solve some of this problem. Companies like GO Box are providing new, reusable packaging options that help to eliminate the waste generated by other takeout and delivery containers, which may be a major attraction for customers and tenants alike.
By providing a Minnow Pickup Pod in a convenient location, building owners can empower both tenants and restaurants to adopt these eco-friendly packaging practices without sacrificing food quality or the customer experience.
And when it comes to disposal, commercial and multifamily building owners may also benefit by thinking about responsible trash management. GO Box, for instance, provides buildings with drop-off bins to collect cleaned and washed containers.
By setting up a central location for the return of these containers and suggesting that tenants use neighborhood restaurants that offer this type of eco-friendly, reusable container program, a building can see a decrease in overall daily trash produced through food delivery.
This may help achieve a better healthy-building score or even accreditation, which can benefit the property by making it more attractive for green-focused businesses and tenants.
Simplifying the delivery process for tenants and for food delivery services
The Minnow Pickup Pod can provide a more sustainable way to get food delivered to residents and restaurant patrons. Rather than spending time searching for individual customers, delivery services can drop off food orders in one centralized location.
And because the Minnow Pickup Pod is insulated, restaurants can feel secure using less wasteful packaging to keep food hot or cold while it's waiting to be picked up. This helps remove overall waste from the delivery experience for both restaurant and consumer.
Plus, because the Pickup Pod helps streamline the delivery process, restaurants can significantly reduce the wasted time gas burned by idling delivery vehicles. Couriers just need to enter the building lobby, drop off the order, and get back to their route.
Meeting customer expectations wherever (& whenever) possible
For building residents living and working from home, the disruption of a food delivery courier knocking on the door can represent a real disturbance to their day. Between remote work meetings and busy video calls—even to leisure activities, like catching up on favorite shows—these minor inconveniences have a way of really piling up.
A centralized, contactless delivery system/platform like a Minnow Pickup Pod can provide an ideal solution, helping to minimize these disruptions without sacrificing quality. Customers can count on self-service order pickup when they want, without disrupting their day.
For building owners, providing this simple yet effective amenity can offer huge benefits to busy tenants, who may specifically choose their living space to complement their hybrid work-from-home environment.
4. Mobile notification of food delivery is expected among tenants.
These days, the era of "checking the online order status" or waiting for a phone call are long gone. Consumers and residents want to be alerted that their food delivery is ready the way they know best: mobile notifications, delivered right to their phones.
By providing these simple, minimally-invasive tech solutions for building tenants, building owners can significantly ease the process of having food delivered within the building.
Streamlining communication with seamless mobile notifications
People use push notifications for all sorts of features on their mobile phones, and food delivery is no exception.
Plus, customers expect seamless notification that their food has been delivered, and don't necessarily want to have to work too hard (or learn a new system) to get them. With mobile notifications—a feature already integrated into just about every smartphone—residents and customers can feel confident that they'll get their food on time without missing a beat.
The Minnow Pickup Pod can also be used with integrations, especially integrations directly with a foodservice operator's point-of-sale (POS) system. Integrating the Minnow Pickup Pod into technology like Toast, foodservice operators can communicate with easy SMS messaging and mobile alerts through food delivery, helping building owners and food service operators provide residents with the very best experience without having to introduce new, intrusive technology.
5. App-free delivery is getting easier for food service operators.
If you've had food delivered in the past few years, you know all too well that food delivery services (and the apps that come with them) can sometimes be a bit much.
By embracing app-free food delivery, building owners can simplify the entire delivery & pickup process for residents, all without the need for a brand-new communication channel.
Keeping orders consistent from kitchen to customer
In recent years, there has been some frustration among some restaurant owners with inconsistencies between delivery app menus/pricing and the actual information. This causes headaches for food service providers, and leads to a worse experience for customers.
By utilizing app-free delivery with a Minnow Pickup Pod, restaurants and building owners can help residents and customers get the food they want without the added headache of inconsistent menus that fail to update in a timely manner. This helps protect positive customer experiences, and can help significantly reduce the likelihood of negative reviews or upset customers.
Creating incredible customer experiences, right to the final moment
Recently, some customers have begun expressing lack of enthusiasm with the many delivery apps and third-party couriers. Many are looking for ways to get great food without all those third-party delivery apps clogging their phones.
The Minnow Pickup Pod's versatile cloud software enables the Pickup Pod to accept food deliveries from any delivery service, restaurant, ghost kitchen, or caterer. No mobile app or integration is required, which means restaurants can maintain close control over all aspects of that experience: from messaging straight through to delivery.
Through integration with a foodservice operator's point-of-sale (POS) system, owners can say "goodbye" to random text messages from unknown numbers telling customers their food has arrived and "hello" consistent messaging directly from the foodservice provider.
Plus, the Minnow Pickup Pod itself helps to improve one of the most important moments in the delivery process: actual pickup by the customer. A well-lit, insulated, and easy-to-use Pickup Pod gives restaurants the confidence that customer orders will be well-positioned, look great, and provide a high-quality experience right up until pickup and beyond.
Safe & convenient food delivery: A good choice for tenants, restaurant, and building owners
As building owners take steps to make their properties stand out from the competition in the battle for tenants' attention, amenities like the Minnow Pickup Pod can play a key role in solving one of today's tenants' biggest needs: easy food delivery.
By centralizing food delivery in one convenient spot in a building, Minnow Pickup Pods help to make the entire food delivery experience better, more sustainable, and more flexible for tenants, foodservice operators, delivery services, and building owners.
If you're interested in bolstering your building with the best solution for easy, contactless food delivery, request a demo and we'd love to show you how a Minnow Pickup Pod can help you stay on top of the latest trends in food delivery and give tenants the convenient amenities they're looking for.