04/26/22
5 reasons food lockers are a must-have luxury amenity for multifamily properties
Written by Christopher Stanvick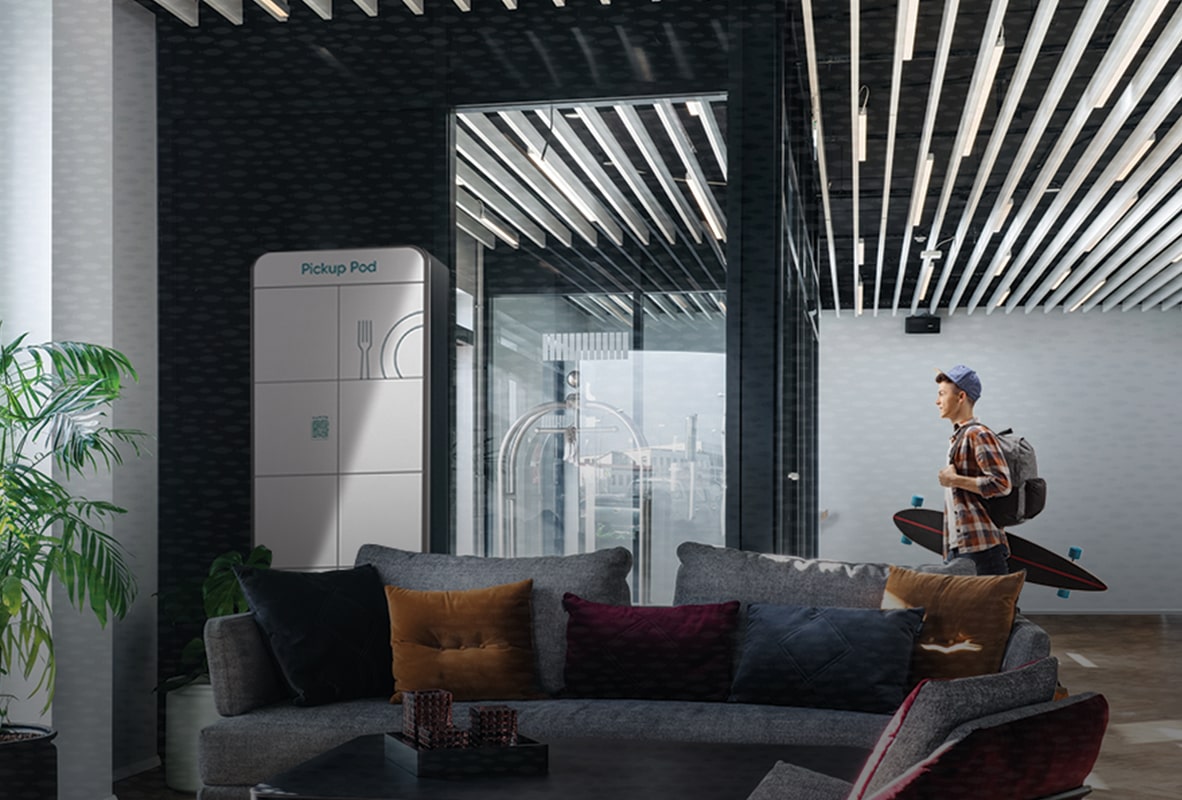 In the past few years, there's been a big shift in how people live, work, gather—and eat.
More and more people of all ages, income levels, and demographics are choosing to rent rather than own housing, but they're not keen on sacrificing to do so. They're carefully considering luxury and wellness amenities when selecting their next residence.
That means property owners are under more pressure than ever to provide residents with those sought-after amenities if they want to attract new residents and keep current ones. As these considerations around luxury, wellness, and even sustainability become more top-of-mind for residents, these amenities will become even more important.
Food lockers are among the most highly requested amenities from modern residents... and for good reason. They satisfy multiple needs for residents and make it easy for multifamily property owners to provide what residents are looking for with ease.
Here are some of the top benefits of food lockers and contactless food delivery for multifamily properties.
1. Food delivery is more popular than ever—but face-to-face contact isn't
According to recent studies, up to 51% of Americans use delivery services to purchase food from restaurants, and as many as 26% get food delivered or get takeout at least once per week.
That means that now, more than ever, residents are thinking not only about how easily they can access good food and restaurants from their residence, but also how quickly and easily good food can get to them.
On top of that, the COVID pandemic has pushed more consumers to explore safe, contact-free delivery options to minimize the chance of exposure from delivery couriers. For people especially concerned about exposure to illness or who are trying to limit their person-to-person contact, minimal interaction with delivery couriers can be critical.
A contactless food delivery solution like the Minnow Pickup Pod, centrally located in a multifamily property's lobby area, can bridge this gap perfectly: giving residents more control over how and when their food is delivered, while eliminating unwanted contact with delivery drivers.
With a Minnow Pickup Pod in the lobby, residents can feel safe knowing their food delivery is waiting in an easy-to-find, contact free location right in the lobby. They can feel free to simply head down and pick it up from the Minnow Pickup Pod when they're ready, without the pressure to drop what they're doing and run to meet a delivery person waiting with their food in hand.
Best of all, residents can even wait until the delivery courier has left the building to head down and grab their food—no person-to-person contact needed.
2. Giving tech-native residents a familiar (and easy) food delivery solution
Tech solutions to everyday chores are becoming more and more common, especially among residents with incomes above $100,000—including everything from grocery delivery to health and wellness. Food delivery is certainly no exception.
Don't discount the power of a good show—over half of millennial consumers would prefer to order delivery so they can keep watching their favorite movies & TV shows. Giving them the flexibility of contactless food delivery from a central spot, so they don't have to disrupt their show to meet a delivery courier, makes that even easier.
Residents are already used to using apps and technology to order food, usually so they can earn rewards from restaurants. The Minnow Pickup Pod makes this even easier.
The Minnow Pickup Pod does not require an app to use. When the resident receives a notification on their phone that their food order has arrived, all they need to do is approach the Minnow Pickup Pod and scan the QR code using their camera. Then, they just need to grab their food waiting for them inside and they'll be good to go.
3. When work is from home, work perks (like contactless food delivery) should be too
As the lines between "work" and "home" became blurred due to COVID 19, more and more residents began looking for the same conveniences they've come to expect at the office in their own living space.
More and more office buildings and workplaces are offering amenities like contactless food delivery for workers. But as people adjust to the new "work from home" lifestyle, more and more residents are starting to expect the same from their living space.
After all, just because "home" is now the new office, that doesn't mean the workday itself is all that different. Workers need an easy way to stay fueled and focused, but they may not always have the luxury of stepping away from a busy day to meet a delivery courier.
With a centralized Minnow Pickup Pod, they can go grab their meal when it makes the most sense for them, rather than having to interrupt a meeting or lose their train of thought on a project because their delivery is waiting for them to come all the way down to the lobby to pick it up in person.
For this reason, features like a dedicated food delivery area in the lobby can really help a multifamily property stand out from the competition, and offer residents an easy way to bridge the gap between "office life" and "home office life."
For residents with an eye for that next great work-from-home setup, conveniences like these might just be the deciding factor.
4. Security is a must for residents. Keep them safe with a dedicated contactless food Locker.
Even with so much focus on luxurious amenities and conveniences, one major factor still plays a huge role in residents' determination on where they choose to live: security.
Residents and property owners alike are both acutely focused on overall building security, and food delivery is no exception. But allowing delivery drivers and couriers open access to a multifamily building, including right up to an apartment door, also increases the risks to residents and building staff.
Although most residents and building staff know better than to invite an unknown individual into a multifamily property in other situations, food delivery is (obviously) a different story. But as food delivery becomes more and more popular, this will become all too frequent—and, potentially, harder than ever to tell the real thing from a bad actor.
For those food service operators, this unstructured delivery process also adds complication to food delivery overall—making it harder and more time-consuming for deliverers to find each individual food destination in a building. That adds time to the delivery process and increases the risk of accidentally delivering food to the wrong door.
By introducing a central, contactless food delivery spot right in the lobby, building managers can streamline the delivery process while making it safer and more secure at the same time. The result: happier residents, a safer environment, and more efficient delivery for restaurants and couriers alike.
5. Maximum benefits for residents, minimum requirements from property owners
In the battle to attract new residents (and keep current ones), it's not uncommon for property owners to feel the pressure to always have the next best amenity for residents—even if implementing them can sometimes be a burden.
Some highly sought-after amenities, like updated exercise studios or outdoor spaces, could be tough for property managers to fully implement. They might add stress to the day-to-day work of building staff and property managers, and could even require property owners to outlay some serious investments before residents even get a chance to take advantage.
But here's the thing: doing these halfway might even make the building look worse, and could turn potential residents away before they even sign a lease.
The last thing a property owner wants new and prospective residents to see when they walk into the lobby is a messy floor with food orders stacked haphazardly on spare surfaces—tables, mailboxes, or even worse: the floor. But without a clear, dedicated spot for deliveries, this becomes the reality for too many residential properties.
That's where a Minnow Pickup Pod for contactless food delivery can make a big, immediate impact: the Pickup Pod can be installed, up and running in less than 30 minutes, meaning property managers can roll out this added amenity within one day.
Plus, the Minnow Pickup Pod requires less than 4 square feet of floor space, meaning you can place it exactly where residents need it with ease. It connects easily to the internet via Wi-Fi, ethernet, or cellular for easy use by anyone, and it plugs in to a standard 120V outlet for simple installation.
Make your multifamily property stand out with a convenient, contactless food pickup Locker
The Minnow Pickup Pod is designed with multifamily properties in mind and is built to make it easy for any multifamily property owner to add this convenient amenity.
Not only does the Minnow Pickup Pod neatly fit with residents' expectations around amenities and luxury conveniences, it also neatly fits in just about any physical space you want to put it. That makes it one of the smartest amenities a property owner can add to their building, and one resident can start using and enjoying pretty much instantly.
It's no secret that the competition among properties is fierce, especially in cities where residents with an eye for luxury, wellness, and convenience put high standards on their chosen living place.
With a Minnow Pickup Pod in place, your building will stand out from the crowd and cater to the needs of residents, all without frustration or hassle in installation.
Get in touch today to set up a demo and see how the Minnow Pickup Pod can help give your residents what they need to live their best lives and give you an edge over the competition.