07/6/22
Contactless food lockers: a flexible amenity for hybrid living and working
Written by Christopher Stanvick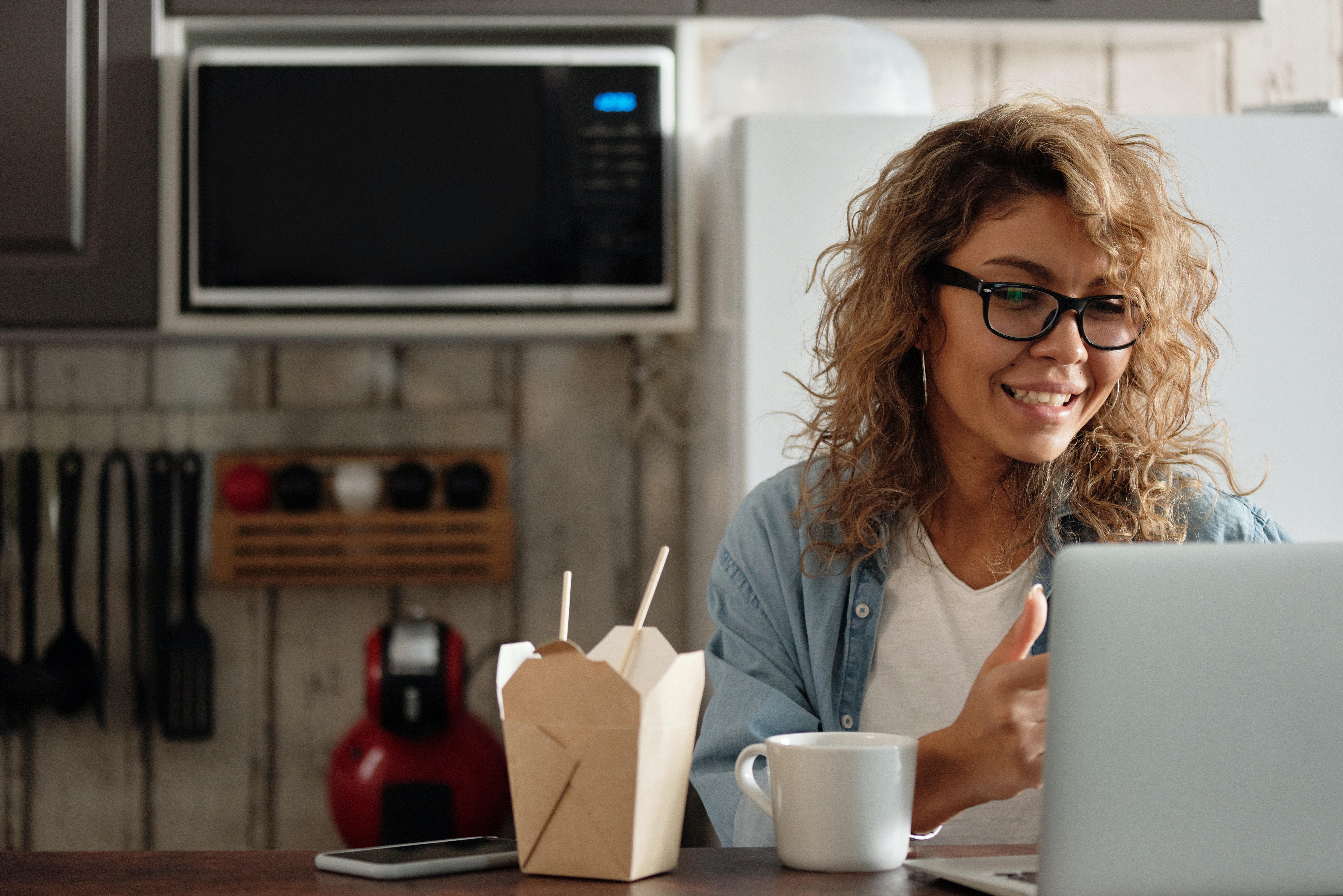 Want to know the secret to provide the very best hybrid work setting for multifamily building residents?
Sure, amenities like energy-efficient appliances and private study rooms go a long way—and they can do a lot to make a multifamily building inviting and efficient. For professionals and students, these can indeed help make it easier to work, study, and live all in the same square footage.
But the real benefit these residents are looking for? Flexibility.
For professionals, families, and students seeking a comfortable combined living and working space, flexible amenities that can adapt to shifting schedules are essential.
That's where contactless food lockers can make a huge impact. By giving residents the freedom to order food delivery without disrupting their workflow, these hybrid workers can stay focused on tasks without sacrificing their lunch of choice.
Residents expect more versatility from the physical spaces in their lives
As the line separating home and office becomes increasingly blurred, people have developed sticky habits that have led to a new set of expectations.
These routines now play a big part in helping people stay focused when working from home—whether that's a mid-day run, a morning coffee break, or ordering lunch from one of their favorite nearby restaurants.
As you might expect, this has made a person's apartment, workplace, gym, and favorite restaurant no longer distinctly different. They've all blended together.
With the proper emphasis on flexibility, a multifamily building can indeed provide the perfect hybrid work environment for just about anyone.

How property owners can support hybrid lifestyles with flexible amenities
The modern commercial and multifamily property is one that includes resources that support working, relaxing, exercising, and ordering food.
To meet residents' evolving needs, property owners must offer intelligent, flexible amenities that align with their tenants' and residents' hybrid lifestyles.
Technology is at the heart of it all—just like contactless, keyless entries or smart technology that have become so integral to providing that kind of flexibility, they've also become expected among residents.
Today's renters are tech natives who not only adapt to new technology quickly but actively seek new and better ways to live their day-to-day lives.
Enter: contactless food lockers. Designed to maximize flexibility with food delivery, contactless food lockers like the Minnow Pickup Pod solve two significant hybrid work challenges at once: access to good food when working from home and distraction-free food delivery.
A contactless food locker allows residents to order food delivery from their favorite local foodservice operator confidently and know that when their order arrives, they won't have to jump up from a busy meeting or lose focus.
Once they receive the notification that their order has arrived, they can simply walk down and pick it up at their convenience.
This flexibility is key to making the home environment suitable as a work environment—a critical consideration for today's residents.
Engineering adaptable environments for the best resident experience
It's not just about providing living spaces that complement residents' work/life balance; many residents are now also looking for spaces that can actually improve their productivity and sense of accomplishment.
This is especially true for hybrid workers, who may be struggling with the lack of coworkers and peers around them during the work day. Additionally, the blurred lines between "work time" and "home time" may make some hybrid workers feel more burned out if they're not careful.
By providing access to amenities that encourage a work-life balance and a work-life synergy, community members will feel less isolated and more inspired to pursue their goals.
Adaptable environments encourage healthier work/life balance
For some hybrid workers, the line between time "on the clock" and "off the clock" can be increasingly blurred—especially when your office and your home are only feet apart.
For some workers, this is a challenge; for others, it's a significant asset, allowing them to adjust their work schedule to meet the needs of their personal lives better.
That's where an adaptable environment can make a big impact. Adaptable environments empower people to work when they feel moved to and relax when needed. That means creating a hybrid space that can bring the functionality of an office, a library, a neighborhood center, and a local market into one interconnected system.
Amenities like the Minnow Pickup Pod support this mission. By providing the convenience of streamlined food delivery expected in both the office environment and the home environment, the Minnow Pickup Pod allows residents to seamlessly transition between home and work on their schedule.
Offer residents more variety (and less monotony) with a contactless food pickup hub
It's no secret that the hybrid work lifestyle means more time spent in one place: at home. Residents can now have a full, busy work day without ever leaving their residence—meaning they're spending much time staring at the same four walls.
This is an essential point because the buildings in our lives influence how we contextualize our place in the world. So, it's hard to get out of that singular mindset when space is dedicated to one thing (i.e., work).
Add in highly repetitive patterns—like having the same home-cooked lunch every single day—and you might have a recipe for a severe lack of enthusiasm for the day-to-day work routine.
By introducing an amenity like a Minnow Pickup Pod, building owners can help residents spice up their routines with essentially no added effort on their end.
A contactless food locker like the Minnow Pickup Pod makes it even easier for residents to order new and exciting food from their neighborhood

without

the headache (or genuine concern) that can come from an interaction with an unknown delivery driver.
Not only does a contactless food locker make the delivery experience safer for all parties, but it also opens up a whole world of new food opportunities for the hybrid employee.
That simply added flexibility could be a significant deciding factor for a resident seeking their next great hybrid living and working space and could be the thing that makes your building stand out from the rest.
Contactless food lockers: making life easy when a single space becomes your world
For multifamily building owners, providing a hybrid living/working space is about empowering people to satisfy a range of needs conveniently within one place.
The Minnow Pickup Pod is one important element in this new system. By streamlining a small but essential part of the work/life balance (namely, food delivery), multifamily building owners can provide residents with an immediately valuable multifamily property food delivery amenity that will impact their happiness, productivity, and sense of fulfillment all on day one.