04/26/22
Contactless food delivery 101 for workplaces & office buildings
Written by Christopher Stanvick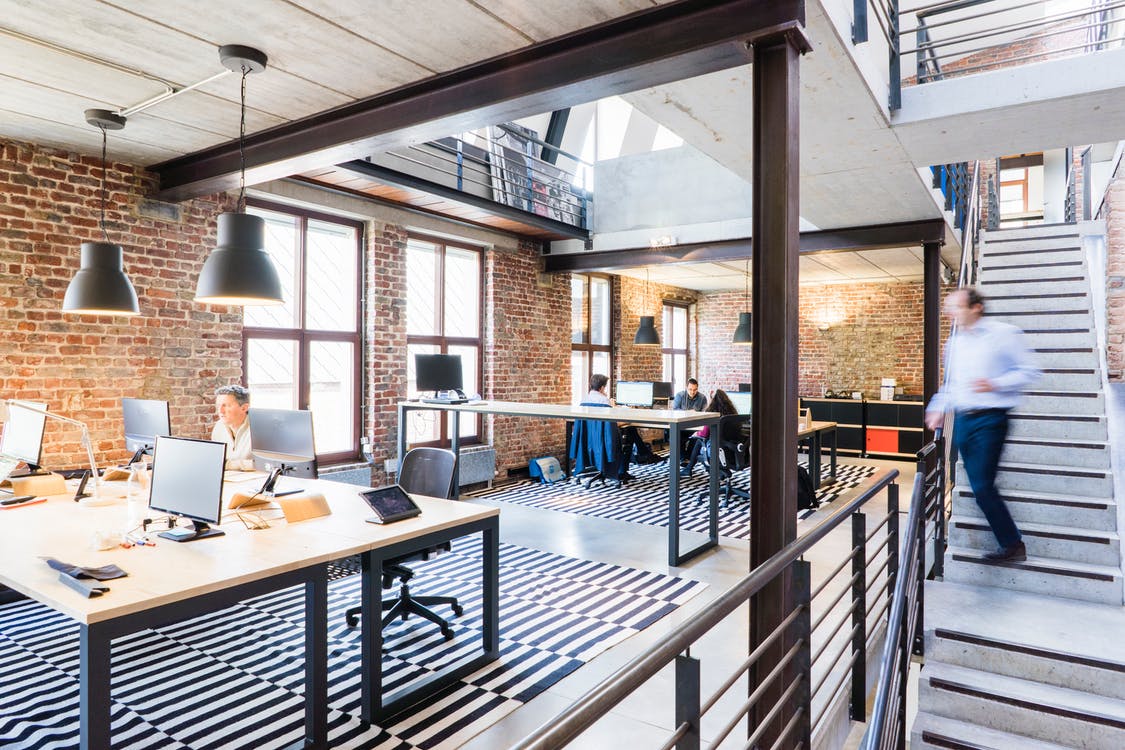 These days, the workplace experience is changing faster than ever—and the food delivery experience is changing right along with it.
Between hybrid work schedules and a return to office life after COVID 19, more and more office workers are turning to food delivery apps. But with this uptick in deliveries, there's a greater push for workplaces and office buildings to provide a better delivery experience.
That's where contactless food delivery for workplaces can play a huge role: helping workers get the food they want on the schedule that works best for them, and helping office building owners, occupier services, and office managers provide the amenities that employers need to attract and retain great talent.
Table of contents
Why is food delivery important for today's employees?
The modern workplace looks a little different than it did just a few years ago. Between hybrid in-office and remote schedules and more shared co-working spaces, there is a bigger emphasis than ever on flexibility for every employee's preferred working style.
The result? Even greater emphasis on making the most of time spent together, in-person in the workplace—especially when it comes to lunch.
Making it easy for employees to stay fueled up
By streamlining the food delivery process for workers and businesses in an office building, workplace owners can provide a better way for teams to enjoy their group meals without the hassle of coordinating delivery each day.
A centralized food delivery spot (like a Minnow Pickup Pod) can provide an easy, consistent drop-off and delivery spot for all team lunches, helping to simplify the delivery experience no matter where or when the team decides to get together for a meal.
Why offer contactless food delivery for an office building?
Ever had to duck out of an important meeting or put a client on hold to grab a delivery order from a courier? If you have, you know the frustration is real—and it's felt acutely by just about everyone working in a modern office.
But what is the alternative? To have a food delivery order left somewhere outside the office, where workers may not even realize it has been delivered? Or, worse, right where it can be stolen?
Simplifying office food delivery with contactless food delivery
A contactless food delivery system like the Minnow Pickup Pod can make a big difference when it comes to keeping employees and businesses moving at their pace. Rather than cutting a meeting short to meet a delivery person, employees can simply head down to the Minnow Pickup Pod right when they're ready.
By eliminating the need for a food delivery service to literally hand over orders face-to-face, contactless delivery allows all parties to operate on their own schedule.
Keeping people safe by supporting social distancing
In the post COVID-19 world, workers and business owners are working hard to minimize exposure between themselves, their staff, and potential sources for exposure. Introducing an unrecognized delivery person into the mix presents not only safety concerns, but very real health and wellness concerns.
Can delivery services use contactless delivery for office buildings?
It's hard to overlook the impact of food delivery apps like Uber Eats, Grubhub, DoorDash, Uber Eats, Postmates, and others in the modern food delivery landscape. These apps play a critical role in helping get food order to just about everyone—office workers included.
Whether you're ordering for the office from the restaurant down the street, beverages for an after-work celebration, or something a little more elaborate for a client lunch, these delivery services are likely the ones who will be making the delivery itself. For them, a Minnow Pickup Pod might just be the best addition to the office landscape.
Streamlining food courier delivery with contactless

delivery
Rather than having an unknown delivery driver wandering through the halls of your building (and, occasionally, getting lost on the way to specific offices), a contactless Minnow Pickup Pod provides a single spot for delivery services to leave orders for anyone in the building.
And because the Minnow Pickup Pod does not require a special app or access to use, any delivery service or driver can quickly and efficiently drop orders right in the designated drop-off spot, usually in the building lobby or somewhere easily accessible. That means time saved for the driver, less confusion for workers, and an overall safer environment for building staff.
What are the benefits of contactless delivery for employers & business owners?
Now more than ever, there's a huge push among employers to attract and retain the very best talent for their workforce.
Fluctuations in the labor market are making it easier than ever for workers to move on to new opportunities—making it more important than ever for businesses to beat the competition when it comes to workplace perks and office amenities.
The result: employees are happier, stay with their teams longer, and do better work.
Simplifying the group food order with contactless

delivery
Today's employers are under more pressure than ever to provide attractive incentives for their workers. For many employers, something as simple as providing lunch for employees on a regular basis can be a huge draw—both to build and encourage a collaborative and rewarding work environment.
This simple incentive can help employers keep team cohesion strong and keep individual workers happy with their positions. But if the process of gathering employees together for a shared meal is stressful or takes away too much time in the day, it's all too easy for this incentive to simply melt away.
By providing a simple and effective way for employers to streamline group orders and gather for shared meals efficiently, building owners, office managers, and occupier services can position their spaces as the perfect place to reinvigorate an in-person team.
What are the benefits of contactless delivery for office building owners?
Office building owners know just how important a comfortable, convenient office space is for employers and employees alike.
For years, building owners and office managers have focused their efforts on providing amenities like relaxation spaces, cafeterias, and more to delight businesses in their buildings.
But when the needs of employees change, the needs of their employers change too... meaning the things they look for in an office space evolve over time as well. For some businesses the allure of downsizing or outright eliminating the physical office space can be tempting.
That means office building owners are under more and more pressure (and facing more competition than ever before) to attract and retain tenants for their physical spaces.
Keeping tenants happy with modern workplace amenities
As hybrid work schedules change the way people engage with their office spaces, more and more, businesses and employers are rethinking how and where their workers gather to get work done.
Some employers are turning to tried-and-true tactics, like providing lunch for employees who show up to work in the office. This time spent with other coworkers can be a huge draw for both current and potential employees, especially as more and more workers get back to in-person routines.
Creating a safer office environment with contactless delivery
Plus, there's now a greater focus than ever on building safety. By eliminating the chaos of multiple delivery couriers wandering the halls looking for specific offices or workers, property owners, occupier services, and office managers can provide a higher level of security for employees and businesses
A contactless food delivery spot might be exactly what employers are looking for. With a Minnow Pickup Pod, building owners can provide a safe, convenient, and flexible way for employees to get their food and make the most out of their time in the office.
What does the future look like for workplace food delivery?
As the past few years show, the landscape for food delivery can change fast—and how office managers, building owners and employers adapt changes right along with it.
When looking toward the future, there are a few important trends every commercial real estate owner and employer should keep in mind when choosing amenities for their workspaces.
By meeting the needs of workers not only today, but tomorrow too, building owners can ensure they stay competitive and keep tenants happy for years to come.
Supporting employee wellness & healthy eating with contactless food

delivery
Employee happiness and wellbeing start right where you'd expect: with healthy habits both in and outside of work.
As more and more employees look for amenities like in-office gyms, they'll also be looking for ways to eat healthy—especially when they are at work. That's where the flexibility and convenience of a Minnow Pickup Pod can make a big impact: by simplifying the food delivery process, employees can eat healthier and make smarter food choices without having to go out of their way to do so.
Want a better way to attract businesses to your office building? start with a Minnow Pickup Pod.
For busy office workers and their employers, food delivery is a fact of life—and it's here to stay.
Rather than breaking their concentration with a trip outside the office, more and more employees are choosing to have food delivered right to their workplace... and they'd prefer to pick it up on their schedule, when it's most convenient for them.
For office managers & building owners, that makes easy and efficient food delivery a must.
Fortunately, the Minnow Pickup Pod is designed specifically with office buildings and workplaces in mind. Not only does a Minnow Pickup Pod help minimize disruptions and keep employees safe, but it also helps enhance building security by restricting deliveries to the lobby.
Plus, the Minnow Pickup Pod is designed to get up and running in under 30 minutes, using less than 4 square feet of valuable floor space. Simply plug it in and users can start ordering exactly the way they're used to—no special app or training required. And, if you ever do run into trouble, our team of experts is always here and ready to help.
If you're ready to outfit your office building with this must-have amenity, get in touch and we'd be happy to provide a quote or schedule a demo. That way, you can see for yourself exactly how a Minnow Pickup Pod can revolutionize lunchtime for your tenants.