05/27/22
Intelligent food lockers: the best commercial building amenity for hybrid work schedules
Written by Christopher Stanvick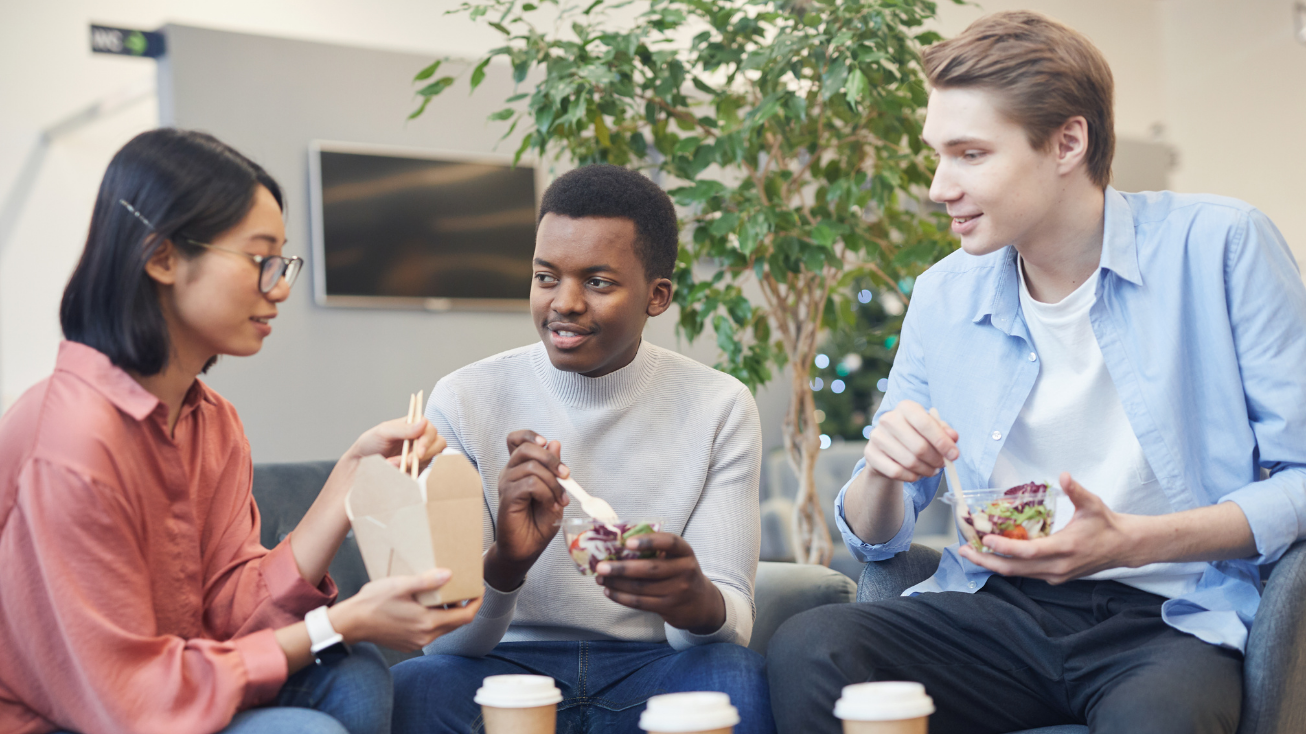 The impact of recent shifts in work habits—especially the shift in where we work because of the COVID pandemic — has significantly altered the way employees engage with the physical spaces where business takes place.
One major area where this has made an impact: food delivery.
Of these more enduring changes we're seeing today, the hybrid work schedule may significantly impact how, where, and why employees choose to have food delivered. As more employees opt for a mix between work-from-home and work-from-the-office, they're taking a newfound appreciation for how they eat with each other.
Commercial building owners need to provide simple, straightforward solutions for employees getting food delivered, especially when shifting schedules bring them outside their comfort zone. These hybrid employees can feel confident in their ability to get great food no matter where they're working without adding even more disruption to their day.
The hybrid work schedule is here to stay, and it's changing the way employees order food
A recent Gallup poll found that an overpowering 91% of remote capable workers in 2022 want either a hybrid schedule or to be at home full time. Of that group, 59% say they want a hybrid schedule specifically.
What this suggests is that people are simultaneously:
Eager for some semblance of pre-pandemic normalcy

Have come to enjoy (and expect) the freedom that working remotely affords
For businesses, these numbers point to one crystal clear truth: Offering a hybrid work schedule is a competitive advantage in retaining and attracting talent. Especially after the Great Resignation, new employees are looking for perks and improvements to their latest workspaces. Like remote flexibility, food is also a critical piece of the puzzle.
Hybrid work schedules are driving more food deliveries
Contactless food delivery spiked in 2020... and it makes perfect sense that it did. People weren't leaving home; people needed to eat, and having food delivered often made the most sense for people looking for variety in their diets while working from home.
That said, the continuation of this trend into 2022 is a bit more interesting.
People aren't necessarily quarantined in their homes anymore. City streets are once again teeming with foot traffic. Office buildings are filling back up. For the most part, people can go wherever they want and do whatever they please.
And still, online food orders continue to rise.
Statista predicts that online orders will climb steadily upwards at an annual growth rate of 8.6%. This pace would put the revenue generated from this sector alone at over one-fifth of the total restaurant market by 2025.
For all intents and purposes, that's exactly what's playing out: significantly more people are in the habit of ordering food online now than ever before. As of 2022,
80% of Americans have ordered food to their homes
60% order delivery at least once a week

63% say they prefer having food delivered to dining out
With the piecemeal return to in-office work among some employees, those same people are venturing back into the professional world. Unsurprisingly, they're bringing their increased preference for food delivery with them.
That's where technology focused on providing contactless food delivery can make a big difference. By simplifying the process of getting great food delivered to the workplace, employers and building owners can help support this trend toward a hybrid work schedule.
That way, employees can enjoy the same excellent takeout food no matter where they're working from... all without the hassle of having to negotiate deliveries to a new office or a shared workspace.
Shifting schedules and teams might make food delivery tricky for some workers
Ordering contactless delivery to the office is about more than just convenience, although that certainly does play a part. It's about being safe and practical.
In today's hybrid workplace, workers may feel less secure and less likely to want to meet a delivery person face-to-face. That's why contactless, intelligent food locker solutions like the Minnow Pickup Pod are ideal for workers concerned about their health and safety. It's all a part of adjusting to being back in the workplace.
From a resource allocation perspective, ordering food can be more efficient than shopping for it in bulk. When fewer people are in the office (and with less regularity), keeping the office fridge and pantry stocked with hundreds of dollars worth of groceries doesn't make much sense. Therefore, even though ordering food is marginally more expensive, it's less wasteful overall.
New workplace social dynamics
Since going into the office is a refreshing novelty for many people, there's more focus than ever on group lunches when everyone is together.
For workers who only see their coworkers a few times per week (or even per month), there's more pressure than ever to maximize the team-building time, so many employers may once have taken it for granted. Ordering lunch is a group activity that brings the team together and encourages team communication... all factors can be significantly squandered if too much time and energy is spent on getting food to the team.
For employees focused on wellness, food delivery doesn't have to be so difficult
The safety and wellness of people and the environment are top-of-mind for employees, employers, and building owners alike. A global crisis will understandably have that effect.
Contactless food delivery can be an excellent option for employers who want to support their team members in making healthy and sustainable choices. Here are a few reasons why and how contactless food delivery can help minimize waste while maximizing employees' access to healthy food.
Reducing food waste by minimizing delivery times
Food waste is a massive global issue. On the consumer side, most of this waste can be attributed to food "going bad." People over-shop for groceries, which leads them to throw things out once they pass their expiration date. Or maybe they cook too big a meal, resulting in leftovers lingering in the fridge for days until they're eventually evicted to the inside of a trash bag.
Waste can happen with deliveries as well. A typical example is a delivery bag sitting out in the open too long, only to be thrown out because the customer doesn't feel safe or satisfied eating food that may be past its prime.
This is where intelligent delivery solutions like The Minnow Pickup Pod can help. Minnow's smart food locker is insulated, allowing food deliveries to stay at a safe and satisfactory temperature for much longer than simply being left out in the open.
This gives customers and employees higher confidence in the quality of their food delivery, which decreases the likelihood that they'll throw it out just because it's been sitting out a little longer than they prefer.
Encouraging healthy eating with convenient contactless food delivery
This trend toward nutritional eating and wellness is an opportunity for employers who want their team to stay healthy and productive.
In the past, managers may have installed a smoothie station or a pullup bar in the office kitchen.
Now, a comparable and more hybrid-work-compatible option is to order healthy, company-sponsored group lunches whenever people gather on-site.
Foodservice operators have also been catching on to the trend, and delivery may offer unique advantages for employees trying to eat healthily and employers who wish to support them. By giving employees an easy, convenient way to order healthy food from their chosen restaurant, employers and building owners can help support healthy eating habits even for employees just dipping their toes back into in-office work schedules.
Create a better workplace delivery experience with intelligent food lockers like the Minnow Pickup Pod
The Minnow Pickup Pod helps make food delivery to the workplace better for employees and easier for office managers. It encourages employee wellness by making it easier than ever to get healthy food delivered on their schedule without unneeded physical contact.
For the people working in the office, intelligent food lockers solve the productivity issue of being periodically interrupted by delivery couriers. Foodservice workers are lovely people, but frequent deliveries can be distracting.
For couriers, there are benefits of contactless delivery as well. Centrally located food lockers save them from navigating new buildings to find where and whom their delivery is supposed to go. Thus, they save time and increase efficiency.
Making food delivery easy for hybrid employees (and their employers) is a smart move for commercial building owners
At first glance, ordering food online and working part-time at the office may seem like loosely related phenomena. But, upon examination, they interact, overlap, and perpetuate one another more than you'd think.
They both exploded in popularity because of the pandemic, but due to how they boosted our collective quality of life, they're here to stay. They're perfectly compatible with our new communal focus on health and contact-free solutions. But even without the health concerns, they make things easier.
These tools are helpful during a pandemic, and they're equally beneficial absent a pandemic. So, whatever the future holds, you can bet that these two phenomena will be lasting fixtures in the modern workplace.
If you're interested in setting your office up for the future of hybrid work, get in touch, and we'd be happy to walk you through the process of installing The Minnow Pickup Pod, an intelligent food locker system.