06/10/22
How contactless food delivery lockers can lower costs & support sustainability for last-yard food delivery to multifamily & workplaces
Written by Christopher Stanvick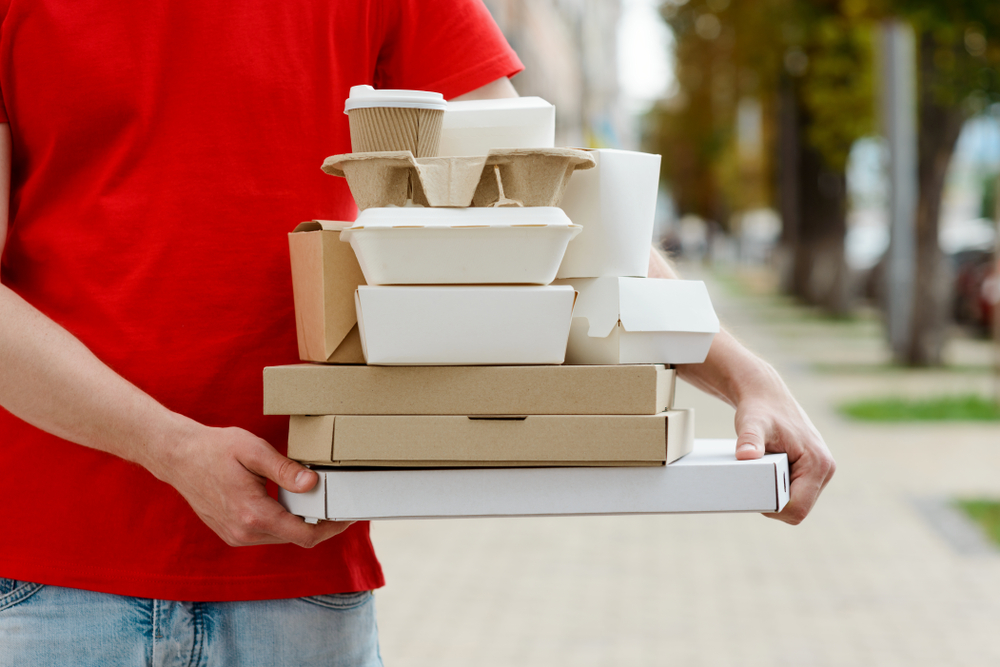 For most restaurants and foodservice operators, there's never been quite as much focus placed on delivery as right now.
As people emerge from the lockdowns and quarantines of the COVID-19 pandemic, they're bringing a lot of the habits they learned along the way with them. One big one: food delivery, which grew over 220% during 2020 and has continued to maintain high demand since.
Even as workers return to hybrid work schedules, spending some days at home and some back in the office, there's still high demand for foodservice operators to adjust and adapt their delivery offerings to match.
But for some foodservice operators, this can quickly lead to yet another headache: cost. The cost of simply getting food to consumers, wherever they may be, is only increasing, especially as inflation and rising gas prices force restaurants to absorb more of those overhead costs.
That's why foodservice operators, commercial and multifamily building owners, and tenants all look to solutions like the Minnow Pickup Pod, which can help reduce the cost (and logistical headaches) that so often come with modern food delivery.
There's pressure on food service operators & restaurants to streamline delivery
Delivering individual meals to more and more customers, spread over a larger area with different delivery spots and building specifications, can add significant cost to the delivery experience. Plus, without a simple and streamlined way to get food to customers quickly, the delivery process can add even more costs in the form of wasted fuel and wasted time.
In short, the added cost of delivering food to customers eats into a restaurant's bottom line, and could raise prices for customers. This can lead to worse dining experiences, and add to the cycle of pain facing so many foodservice operators.
However, there may be one solution positioned perfectly to help bridge this gap and make it easy for foodservice operators to deliver more food faster and more efficiently: contactless food lockers like the Minnow Pickup Pod.
"Deadhead" miles add to the overall cost of delivery for foodservice providers (and for their customers)
Did you know that "last mile shipping" can account for over half of the total delivery cost? What's more, up to a quarter of this added cost is often absorbed by the foodservice operator, further shrinking margins and making it even more difficult to meet the increased demand for food delivery.
Deadheading is a term commonly heard in the trucking industry, referring to when a truck driver is on the road without cargo: for every mile driven without cargo on the back, the truck is losing money paying for gas, putting miles on trucks, and more.
The same is true for food delivery providers: every minute and mile out on the road without making deliveries is revenue lost. That means all that time spent searching for delivery locations, or the time spent wandering a building's hallways looking for an individual customer, all eats into the overall revenue generated by each order. By some estimates, food delivery drivers spend up to 50% of their time deadheading.
Multiply this by all the orders in a single delivery trip, and the costs of simply getting food to customers can really add up... and this all happens after the order has already been paid for.
Without a way to centralize, streamline, and boost efficiency for last mile delivery, foodservice operators could feel the pinch in this increase in demand for fast delivery.
Maximize delivery revenue with contactless food lockers & lobby food delivery hubs
The Minnow Pickup Pod can make a huge difference in helping to reduce the overall cost of food delivery for foodservice operators.
By centralizing the food delivery spot in each multifamily or commercial building in one easy-to-access hub in the lobby, building owners can help make the delivery process faster, easier, and more efficient for foodservice providers.
Not only does the Minnow Pickup Pod help cut overall costs for food delivery and help support local restaurants, it also makes the order pickup experience easy for residents and tenants. That's a win-win, and it all goes into making the neighborhood—and, thus, the building itself—that much more attractive for tenants.
Customers are focused on finding sustainable food service options
Sustainability is a key buzzword among consumers today, and even food orders are impacted by the desire to keep things sustainable.
Now more than ever before, customers are considering food delivery sustainability when they order delivery, including big picture questions like:
How much carbon will be produced by this order? (Think: fuel consumption for delivery vehicles, food packaging materials, etc.)

How much waste will be generated by this order? (Especially when it comes to the amount of packaging and food waste generated)



For restaurants and foodservice operators, sustainability is a major concern in the battle to keep customers and build eco-friendly reputations. There's more pressure than ever for foodservice operators to minimize waste, maximize sustainability, and overall provide a more eco-friendly delivery option.
Reduce your carbon footprint by streamlining food delivery
Emissions from delivery vehicles are a major focus for sustainability-minded consumers, and all that wasted gas & energy represents serious costs for food service operators. The more time drivers spend idling in a building's parking area as they wander the halls searching for individual customers, the more they contribute to the overall expense of delivering even a single meal.
What's more, factors like food waste and packaging also play a role in driving concerns around sustainability and represent challenges restaurants should focus on as this trend continues.
The Minnow Pickup Pod can help to alleviate this problem, making it easy for each delivery courier to find food drop-off locations quickly and efficiently.
By placing the Minnow Pickup Pod right in the lobby, building owners can empower foodservice operators and deliverers to drop off food orders in significantly less time, allowing them to optimize their delivery routes to cut expenses and truly maximize delivery revenue.
Cut back on packaging (and packaging waste) with a contactless food delivery hub
Eco-friendly packaging options like GO Box offer ways for restaurants to minimize carbon waste and even sustainable disposal options, each of which can help to minimize overall trash produced through delivery orders.
With the addition of a centralized delivery spot like a Minnow Pickup Pod, restaurants can feel confident knowing they can use less packaging without sacrificing the end user experience. This helps to keep building lobbies free from trash buildup from delivery orders and provides a more inviting experience for customers when they're ready to pick up their order.
Plus, the Minnow Pickup Pod is insulated, which helps keep food at the ideal temperature for longer. That means foodservice operators do not have to use as much packaging to keep food hot or cold.
Protect the quality of the delivery experience, right down to the final steps
Even as more customers focus on the delivery ordering experience, third-party delivery apps have stepped in to fill the gaps that local and small-scale foodservice operators struggle to fill.
In some cases, this can lead to bad results—especially when lack of communication between third-party delivery vendors and foodservice operators make things more expensive, or overall worse for customers.
These final steps of the food delivery experience, including actually making sure the order reaches the customer while maintaining high standards of excellence, are crucial and leave a major impact on customers' memory of their meal.
That's why so many foodservice operators are focused on protecting the customer experience all the way to the moment customers actually pick up their food.
A Minnow Pickup Pod can help. Because the Minnow Pickup Pod is insulated and secured, restaurants can make sure food stays the right temperature, is easy to find, and overall looks great in a well-lit, pickup cubby right when customers go to retrieve it.
No more making customers dig through piles of cold, greasy delivery bags piled up in a messy lobby; customers can instead find their food ready and waiting for them right in their own individual Pickup pod cubby. That makes it easy to protect that customer experience, right down to the final details.
Streamline the delivery process for maximum sustainability with intelligent contactless food lockers
When it comes to keeping up with the booming demand for food delivery, restaurants and foodservice operators need an ally—and with the help of a Minnow Pickup Pod, building owners can be that ally.
A Minnow Pickup Pod can help streamline food delivery for couriers & food service operators, reducing delivery times and supporting overall delivery sustainability.

As a result, the Minnow Pickup Pod helps speed up delivery times and encourage route optimizations, and the insulated cubbies allow restaurants to use less packaging to keep food hot or cold for long periods.
If you're interested in learning more about how a Minnow Pickup Pod can help improve the delivery experience for tenants, help protect revenues for local restaurants, and make a commercial or multifamily building's neighborhood more attractive as a result, get in touch. We'd be happy to help you get your lobby delivery-ready with a contactless food locker built for today's food delivery landscape.