04/26/22
Contactless food delivery 101 for multifamily properties​
Written by Christopher Stanvick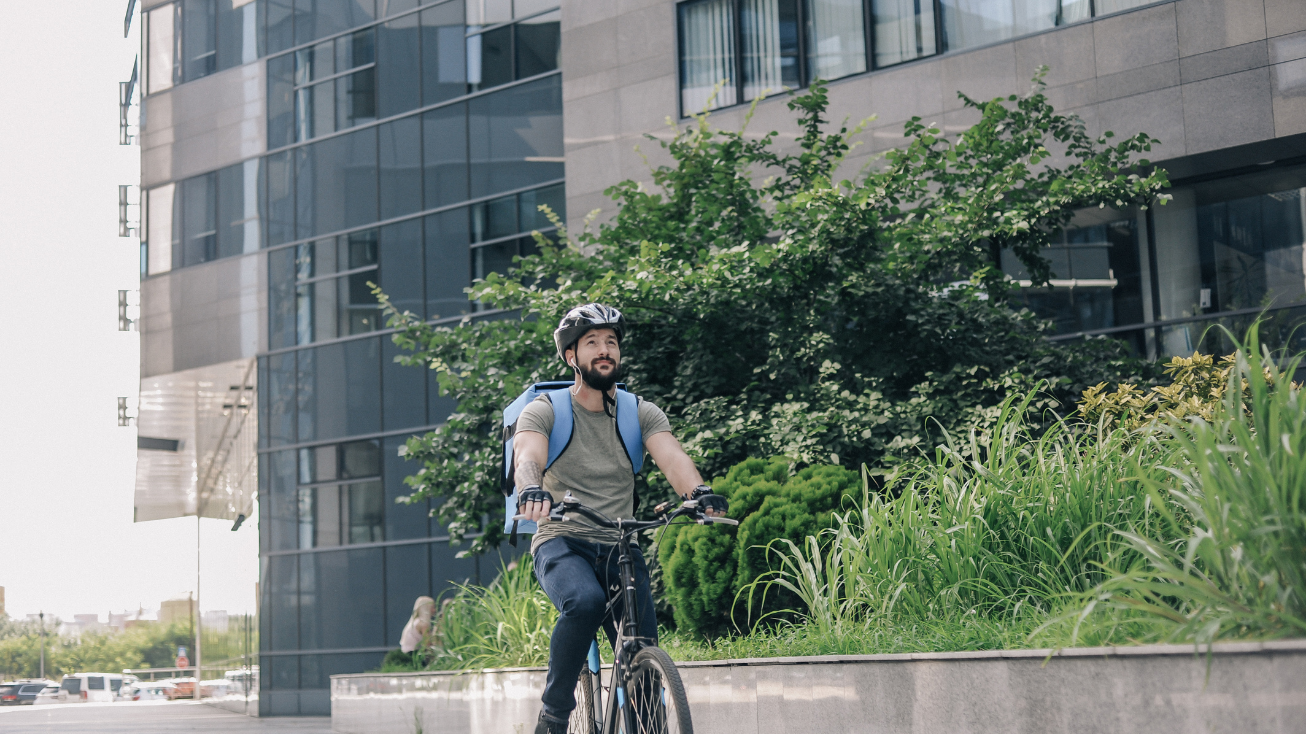 Let's face it—food delivery is here to stay. Residents love it, and businesses count on it. So how can a residential property owner meet the demand?
Food deliveries to multifamily properties grew by 80% in 2020 - 2021. This impressive but not altogether surprising statistic signals a shift in how our country's 40 million apartment renters approach the ritual of mealtime.
As a result, the convenience of having restaurant-quality food brought to their home has become something that residents count on—and a key amenity that multifamily property owners need to provide for today's renters and residents. 
That's where a contactless Minnow Pickup Pod can play a huge role, and why it might just be one of the most important luxury amenities for multifamily building owners to provide for residents.
Table of contents
What are the benefits of contactless delivery for property managers?
Contactless meal delivery has become (and will continue to be) a staple in residents' lives—and the volume of those orders is unlikely to decrease any time soon. These days, contactless food delivery has even become a matter of public safety. For some consumers, ordering in is less risky to health and wellbeing than going out.
For anyone overseeing the operations and administration of a multifamily community, this means that the infrastructure and amenities surrounding food delivery to the building must be revised and revamped to reflect this new reality. 
In other words, the question is how—not if—to update their drop-off and delivery systems.
How property managers can adapt to increased delivery volume
Improvising a DIY drop-off area such as a series of shelves or cubbies will cost you time and resources and, in the end, wooden shelves will hardly be seen as an innovation in your residents' eyes.
That's not even mentioning the fact that an exposed shelf is an uninsulated environment, and insulation is something that 70% of residents that we surveyed said they want in a food delivery solution. 
Based on these evolving needs, it's clear that what managers must implement in 2022 and beyond is a standardized, professionally made application designed to ensure the quality and security of their residents' orders. They need a plug-and-play product that takes all of the risk and uncertainty out of purchasing food online and replaces it with a predictable, reliable, and repeatable process. 
A modern solution to address evolving residential needs
The reality is that many apartment renters in the next decade are likely to order food more frequently than they receive letters in the mail. Some might even order food more often than they do laundry.
So, why not offer a reliable, standardized system for food delivery? It's a smart and strategic move and soon - especially for larger buildings - it may be the only move. What was once a "nice-to-have" will, in the near future, become a "must-have."
Contact-free drop-off systems like the Minnow Pickup Pod offer two major benefits for residential property owners and, by extension, their residents: meeting residents' needs, and protecting their property.
Chances are you already have numerous systems in place to do both. For mail, there's a mailroom. For laundry, there's a laundry room. For bikes, there's a bike room. All these features are meant to keep the building running smoothly. To maintain order and avoid chaos. 
However, apartment living and everything else in the world has changed in recent years. Therefore, your amenities must evolve to address those changes.
How does contactless delivery benefit commercial real estate value?​
The oldest members of Gen Z are now graduating from college and flocking to the rental market.
Studies show that young professionals consider apartment technology to be a deciding factor when picking a place to live. So, if you want to attract these newly minted postgrads and their newly minted paychecks to your building, it would be wise to increase your focus on tech and wellness. 
One way that property managers can capitalize on this young and tech-savvy wave of potential residents is by offering modern amenities such as contactless delivery solutions.
You'll also find increasing resident satisfaction scores to be an especially valuable investment among this group since, according to the same study, they are the most likely to check online reviews of apartment buildings. More positive online reviews win more rental applications and can enhance the value and reputation of your property.
Why is secure food delivery important for residents? ​
As the novelty of meal delivery apps gradually wore off and became a permanent fixture in their lives, apartment residents have developed higher standards and expectations. 
When ordering food was an occasional luxury rather than a routine fact of life, it was easier for customers to overlook the small hiccups in the system. Now, since food delivery has become a weekly or even daily occurrence for apartment renters, the inconveniences are harder to excuse. 
Improving the residential meal delivery experience
It's no longer enough for the order to arrive on time. It needs to be A) the right food B) close enough to the right temperature, and C) placed in an area that's safe and accessible. 
Gone are the days of scooping a delivery bag off the sidewalk in front of your building and just being grateful that some food came somewhat on time. Residents expect and deserve more, and products like the Minnow Pod provide that. 
Implementing a secure contactless delivery system improves the drop-off/delivery experience for everyone involved. For couriers, it takes the guesswork out of finding a place to leave the food; they know exactly where to put it. For residents, it takes the guesswork out of figuring out where and in what condition the food was left; they always know exactly where it is.
How does contactless food delivery support security & safety in a multifamily property?
These days, safety and security are also top of mind for residents when choosing where they will live, raise their family, and (often) do their work. Having a safe, easy-to-find hub through which all meal deliveries are dropped off and picked up improves building security.
Keeping delivery couriers comfortably in the lobby is a net positive for resident security and helps to mitigate the chance of these deliverers finding themselves lost while searching for individual residences.
A Minnow Pickup Pod provides a single, centralized place right in the lobby to drop off all food orders, so residents can safely pick up their food when it is most convenient for them. This helps safely contain deliverers in a dedicated spot in the building and gives residents an added sense of security when picking up their meals.
Why offer contactless food delivery for luxury residences?
For luxury apartments and 4- to 5-star multifamily buildings, amenities play a big role in keeping residents happy and satisfied with their living arrangements.
After all, for these most exclusive of residents, it's the little details that make the biggest impact—and ease of food delivery is no exception.
Simply having food delivered to these luxury residences is no reason to sacrifice on safety or security for residents. That's where a contactless Minnow Pickup Pod can help a residential property truly stand out.
Simplifying healthy food delivery for luxury residents
Wellness amenities are a major deciding factor for residents of luxury residences—but these days, that goes a lot further than simply having a good gym in the building.
As more and more residents focus on an all-around, everyday healthy lifestyle, factors like healthy eating take on an especially critical importance. That's where a contactless Minnow Pod can help the most, making it even easier and more efficient for these residents to get the healthy food they want without having to take precious time out of their daily routines to get it.
The result: residents who use the Minnow Pickup Pod for their deliveries can eat healthier and maintain their wellness goals, all without having to step foot outside their building.
C
an delivery services use contactless delivery for multifamily properties?
For the tens of millions of Americans who live in apartment buildings, there's a big difference between their front door and the front door. Often, several stories worth of difference.
As more and more delivery couriers have no choice but to bring food right up to residences directly, there's increased likelihood for these couriers to be wandering around the building—sometimes with little clear direction or idea where they're going.
This wastes time for the courier and provides a substandard delivery experience for the resident. But with a centrally located, contactless Minnow Pickup Pod in the lobby, this can all change for the better.
Simplifying food drop off for delivery services
Upon delivery to the Minnow Pickup Pod, the courier scans a QR code on the Pickup Pod which alerts residents that their order has arrived.
So, instead of receiving a text message that says, "This is your GrubHub driver Alex. I've left your food by the front door," customers receive a notification on their phone that their food has been safely and securely placed in the contactless food locker in the lobby of their building. 
This means residents don't have to wait for a text message and then rush down to the ground floor to grab their food before the bag gets moved, stolen, stepped on, or mistaken for trash. Or, if they're out of the building, they don't have to sprint home for fear that their food will become cold or spoiled if they take too long. 
With Minnow, customers can take their time and retrieve their food when it's most convenient for them. The peace of mind that this provides makes the whole delivery experience more enjoyable and less stressful. 
Why provide contactless food delivery for hotel guests?
Tech and wellness amenities are a great way to attract new residents to an apartment community. But they're also a great way to attract guests to a hotel. It all comes down to offering an elevated residential experience and, above all, showing that you understand and care about guests' needs. 
Improving the hotel guest experience with contactless food delivery
Like a luxury apartment building, a hotel is a place where things like unsightly clutter, food odors, and mixed-up deliveries are unacceptable. The success of the business depends on offering guests an escape from this sort of unpleasantness.
A secure, temperature-controlled food locker is an elegant solution to this problem. It facilitates an organized delivery system, ensures that guests receive exactly what they ordered, and it avoids pungent delivery bags being littered around the lobby and front desk.
How a luxury apartment building provides a luxury experience with Minnow Pickup Pods
One luxury hotel-style apartment building, the Astoria at Central Park West, has been using a Minnow Pickup Pod for over a year now. In early 2021 they replaced their uninsulated "food drop-off table" with our system. Since then, the Minnow Pickup Pod has facilitated over 13,000 successful deliveries to happy Astoria residents. ​
How does contactless food delivery work for college dorms?
Food delivery apps are incredibly popular on college campuses. So popular that some schools have partnered with delivery services to allow students to have meals from on-campus eateries delivered to their houses and dorms.
And that's only the tip of the iceberg. Students order off-campus food constantly. Whether they're studying and don't want to leave their residence hall, watching a football game and want gameday snacks delivered to them, or hosting a party and want to offer their guests something to eat. The list goes on and on.
School administrators and resident advisors can corral this endless stream of orders by channeling them through an organized contactless delivery system. Otherwise, depending on the size of the dorm or house, things could quickly get out of hand. The last thing that anyone wants is a lobby full of mixed-up food orders that were left out overnight, especially on an urban campus where rodents are a concern.
Give your residents the amenities they need with a Minnow Pickup Pod
Change is never easy, but we don't necessarily view implementing a contactless Minnow Pickup Pod as a change. Instead, we see Minnow as the natural next phase in the evolution of contactless delivery to your apartment building, hotel, or college campus.
It's leveraging the systems that you already have in place and optimizing them to improve your residents' experience. Revising and revamping the way you handle meal delivery, not completely overhauling it.
And as far as time and resources go, the whole Minnow unit can be installed in under 30 minutes which, when you consider the time that it would take to construct your own storage space, is no time at all.
If you're interested in elevating and improving your contactless delivery system, we encourage you to contact us today to get the process started. In 2022 and beyond, you and your residents deserve a system that is safe, streamlined, and easy to manage.